When I'd been invited to visit Preferred Popcorn by my buddy Sam, I had this immediate vision of golden fields laden with ears of corn bursting forth with an abundance of soon-to-be buttered bounty. I pictured giant tractors backdropped by cerulean blue skies and big red barns. This was the breadbasket of America right? So why was it so hot and dry? Did I somehow take a wrong turn and land in the oven?
As I made my way through Oklahoma, then Kansas and finally Nebraska, I was underwhelmed. Here the land was stripped of all pretense. There were no large plantation style homes or happy cows sipping from babbling brooks. I didn't see a single red barn or a cheerful farmer on a rustic tractor wearing overalls and chewing happily on a corn-cob pipe. Instead I found myself bored by the lack of personality, or rather, the lack of life altogether in the bountiful but somehow desolate land. Fields stretched out forever in blankets of green wrapped tightly around the Earth. Cornstalks six to eight feet high and soy beans so green they were almost blue, were watched over by giant sprinkler systems that silently yet mercilessly demanded only one thing – Produce, Produce, Produce.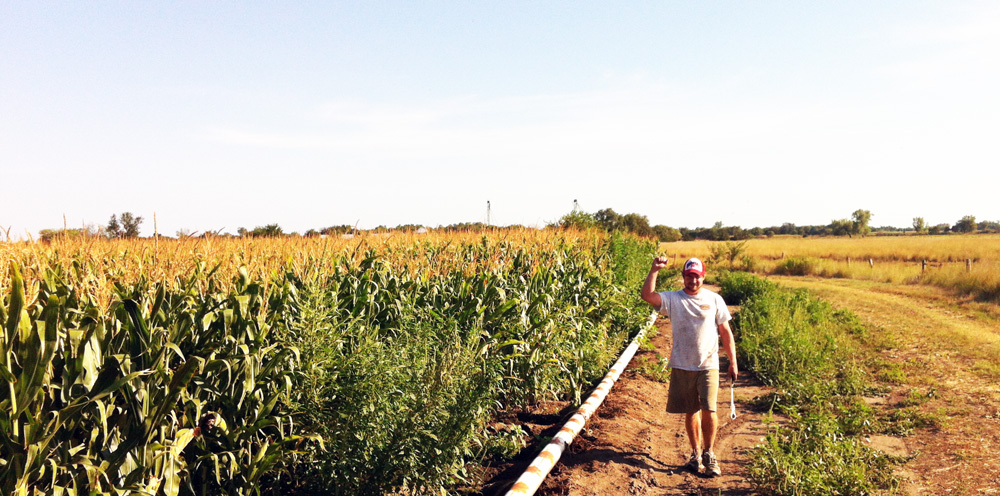 I finally met up with my buddy Sam and after our initial greeting he immediately took me for a tour of the "estate". Their home, which I had imagined to be a mansion befitting the third largest popcorn plant in the nation, was nothing more than a 100 year old farm house that had been jazzed up with a new roof, new siding and some river rock. It was modest, humble even, and the inside of it smelled to me not like humans who had been working in the field all day – which is what I expected, but instead it actually smelled of freshly popped popcorn. I don't know why this surprised me, but it did.
Here in this world I was completely out of my element. There was no internet, my phone registered almost no satellite signal. There were no homes as far as my eye could see and for some reason, I felt that we were alone here, as if God himself had decided that he was much needed someplace else and that he could leave just a handful of rookie angels to watch over things while he was away.
When we went into town I kept expecting to see something more, like any minute now we would round a corner and there would be a Walmart or a shopping mall. I started to get almost desperate for a Walgreens or even a McDonalds but the Golden Arches were not to be found. Here, in Central City, Nebraska, they didn't have much of a need for large convenience stores, shopping malls, or hamburgers churned out by the hundreds and served alongside piles of deep fried and piping hot sticks of salty bliss. No, here there was no time for that. People got up early and irrigated their fields and when they weren't irrigating, or planting or harvesting, I'm sure they were praying. Farming is a difficult task that has been honed down to a science, however, science can do nothing without God who ultimately controls the outcome of everything. He provides the sun, the rain, and the grasshoppers and at times he provides bounty and at other times he provides famine. In both we have a lesson to learn.
As Sam and I went about on bumpy dirt trails to open and close pipes and to adjust pivots, I couldn't help but admire these farmers who actually are the ones that feed America. They literally put food on our table. They labor and toil so I can go to the movies and have a $6 bag of golden goodness popped freshly in coconut oil and then drizzled with delicious artificial butter. I'm thankful for that.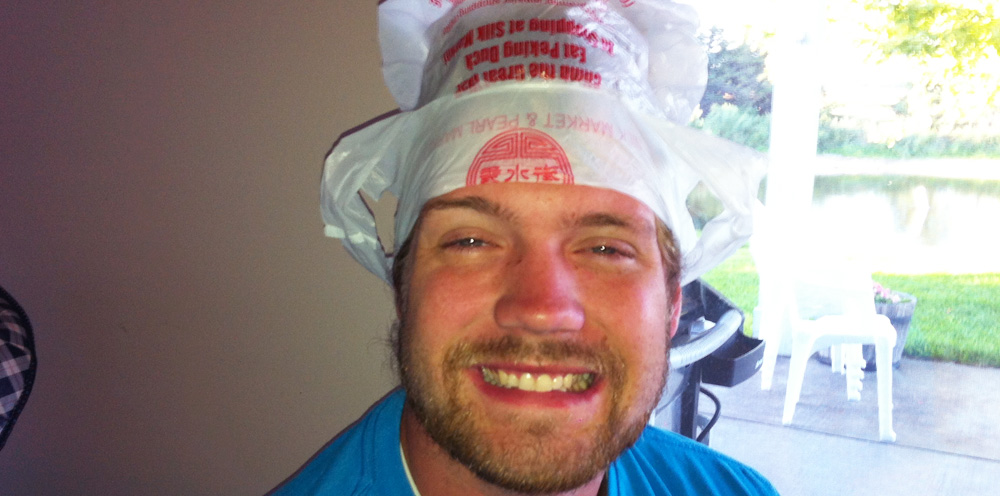 The best part of the trip was getting to spend time with my friend, my brother, Sam, who we lovingly refer to as Popcorn here in Texas. In the last year he has become very dear to me and while we knew a great deal about each other, there is nothing like spending time with someone and their family to really get to know them. Here in his hometown with his parents and sister I saw the hardworking young man that was covered in dirt more than he was clean. His hair was in need of a visit from a pair of scissors, his face and neck an appointment with a razor, but despite this exterior grime I saw Sam more clearly than ever. He was not wearing seminary approved clothing or sporting about in his bright yellow mustang, instead he was working at a task as old as civilization and my estimation of him increased. It was like seeing inside of Mary Poppins' bag and being surprised at the depth there.
As I drove away from Nebraska and Kansas I had a better appreciation for agriculture, a better understanding of my friend and a gratitude for the fact that I get to work inside in ice cold air conditioning in a town that is close to a Walmart.