It seems that all of my friends are having babies and they all need help picking out a name for the spawn of their love. 
Cody and Amy are naming their son Caden despite my many attempts to get them to name him something cool like Hawk, Bear, or Falcon – which happen to be the names I plan to name my triplets when they are born. How do I know I am having triplets? Well, in vitro of course. It will be in the prenup. (We want prenup yeah!) 
So while I was perusing the web for all things useful and cool to pass along to my kick butt baby making readers I found this website: http://www.nymbler.com
It starts by giving you some inspirational names and that totally threw me off. What you have to do is start by typing in names you like at the top and then click on "Find Names" and then it will find names similar to the ones you already like. Say for instance you are like the Cribbies and one of you likes the name Elly while the other one likes the name Bacon. Well, put both names in nymbler and it will find something you both can agree on. 
I put in the names I liked and this was my result: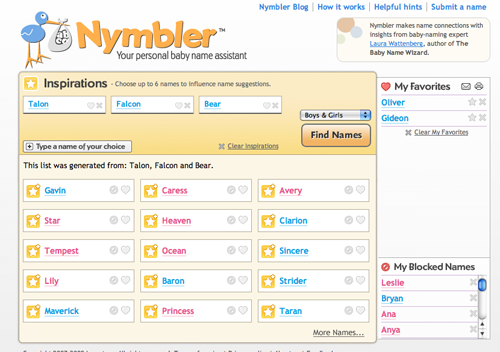 Word on the street is that  Nadya Suleman used this to name her Octuplets, okay, not really, but she might have.