Christian music artist Steve Sporre released a new CD titled, "I'm Ready". The word on the street (and straight from my mouth) is that the CD is really good.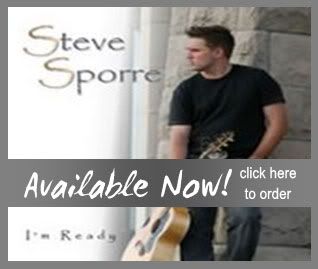 Anonymous said…
I pre-ordered months ago. This cd ROCKS!!! Thank you. I love it and I think its going to be stuck in my car for quite some time.
Connie said…
As soon as I can afford it I am going to buy one for my handicapped son. We talked about it and he wants both your old one and new one!! Pleaes please set one aside for him and sign it, PLEASE!!! I am hoping to buy one at the end of this month.
Eddo said…
This is the best music Steve Sporre has ever created. The production, lyrics and vocals are all mesmerizing. It is a definite testament to God's grace and love.