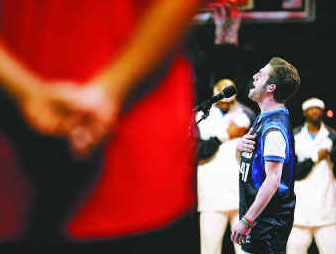 Performed the National Anthem last night. According to one of the ManiAAC's there was a delay in his performance because he was singing accapella and he needed someone to hum in his ear so he could hit the right key. Apparently they hummed one key too high because Elliot was started out much higher than anyone other than Celine Dion or Mariah Carey would want to start out. He ended up doing a superb job, but wasn't quite able to hit the really high notes in the line "For the land of the FREEE!!!", but he still totally rocked the house – the boy can sing!!!
I did want to point out that in this picture here you will see that someone is not holding their hand over their heart. Since their shirt is red I am assuming it is a Miami Heat fan and they were probably so worried about their team losing that they were flustered and apparently didn't realize what was going on around them.
If you didn't watch last night's game then you might not know that at one point the Dallas Mavericks were ahead by 27 points. The heat closed that gap down to 13, but Dallas continued to hold their lead and win the game 99-85. We now lead the series 2-0 and there will be three consecutive away games. Game 3 is crucial because if we win the first one on their home court, then we will most likely win the 4th and return as champions. I can't imagine losing against these guys. Last night in the first half we weren't even playing great basketball, then in the 3rd quarter we came out and dominated. If we can play wit the same intensity that we played with last night then we should have this thing in the bag.
One interesting thing to note about this series is that Shaquille O'Neal has been shut down! Last night he had only 5 points.
My best friend Joe and one of his friends came to the game last night. I missed Joe's wife Amber who had to work and couldn't come with Joe to the game, but we still had a great time.
It has been a great season and a great time to be a Mavericks ManiAAC!
Go Mavs!!!!!