Illustration by Jes of Just Say Jes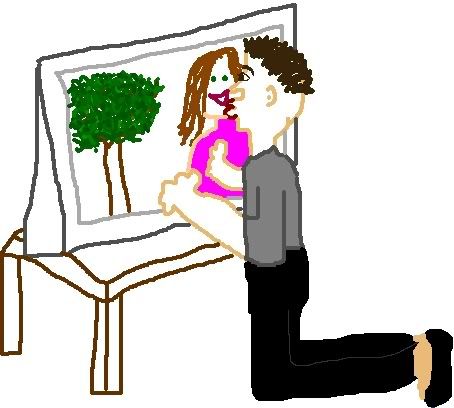 -thanks Jes!

From Making out with the T.V. Screen…
No, it's not the lyrics to a new hit song by Fall Out Boy, even though it does sound like a lyric they would write. No. It's the truth.
Every time I see Sarah Chalke on Scrubs my heart races, my blood pressure goes up and I am drawn to the screen the way ants are drawn to a pile of sugar. She is what every man wants – vulnerable, a little messed up -but not too much, beautiful, smart, funny, quirky – yep, EVERY MAN wants this ladies so make a note.
So there I am watching her on-screen last night and as I sat near the T.V. I closed my eyes and pressed my lips to hers. I looked deep into her eyes and I said, "Sarah, will you marry me and have my baby?" Because I know we would have great kids and she would be the coolest mom and since she is a doctor she could totally fix our kids if they ever got sick or broke a bone. I know that in real life she might not act like Dr. Elliot Reid, her character on Scrubs, but that's okay, we could do these little pretend sessions where we play like she is a doctor.
And… on a slightly related, but different note since all of my friends are having babies, I have made a list of all the women I would like to have my baby. Note: this list does not include Angelina Jolie, or Christina Aguilera, or even Carmen Electra – I find them all extremely attractive, but they have all been soiled in my mind one way of the other. I just can't get over Christina with Billy Bob Thornton and the whole blood vile around the neck thing. Christina went ghetto for a while and when I saw her I kept imagining the way that she probably smelled, and it was stank. And Carmen Electra is married to the ever-freaky Dave Navarro who looks like a cross between a homeless man and Count Chocula.
All that being said, here is my list in the order of preferred conception:
Sarah Chalke
Jennifer Lopez
Jennifer Aniston
Jennifer Garner
Jennifer Love Hewitt
Evangline Lilly – From LOST
Eva Longoria
Keri Russell
Halle Berry
Courtney Cox
Mariah Carey
Jewel
Shakira
Catherine Zeta Jones
Salma Hayek
Gabrielle Union
Demi Moore
Cameron Diaz
Kirsten Dunst
Drew Barrymore
Zang Zi Yi
Marcia Cross
And why can't I remember that Asian girls name that was in Alley McBeal and Charlie's Angels? Add her to the end of this list and it is complete.
I think I am going to go into acting, I may not be able to marry one of these celeb hotties in real life, but maybe I could be the father of their children on T.V.
Hey, one can dream…