A gift from Stephanie which has me really on a caffeine high this morning.
A gift from Leann that is so cool I hate to use it – but Leann, I promise I will. It came with a video to learn how to use it, but I loaned out my VCR and never got it back.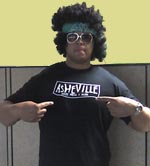 I got this shirt from Anne Fitten Glenn – which ended up getting me quoted on the Asheville movie site.
I got this from Sydney, Ben's wife and I love it. I also got some silver coins from Ben, but I have no picture of them.
What I cherish most about these gifts is that I have never actually met these people in person, but we have formed friendships online and they are all quite special to me.
So have you received any blogger gifts? If not, send me your address and I will send you some gifts!