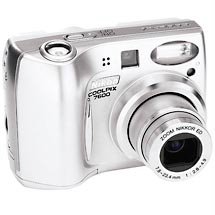 Nikon 7.1 MP Coolpix 7600 Digital Camera
It is only $237.00 at Walmart Online. That is unheard of for a 7.1 Megapixel digital camera. I stil can't believe it is true. I hope to go pick it up today on my way to Waco, if I do, then I can totally get some pictures from the weekend. Which, speaking of the weekend, I am going to see SING tomorrow night. Which to me is better than any musical production I have ever seen. The fun of it is that it is so many shows in one. I love it. I don't think I can take pictures of it, but if I can, I will totally sneak some bootlegs back here and upload them.
Love you guys and gals.