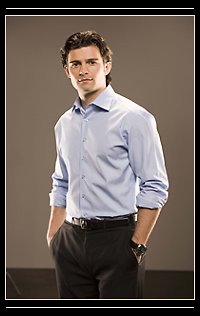 TIer to be contestant on 'The Apprentice'(08 Feb 2006)
A Dallas TIer has landed a spot on the next season of "The Apprentice," the TV show in which contestants vie for a job with real-estate magnate Donald Trump.
At 27, he has worked at TI for five years and holds two bachelor's degrees, one in liberal arts from St. Anselm College and one in electrical engineering from The Catholic University of America. He has played rugby for the Dallas Harlequins, and he has rowed crew in the Henley Royal Regatta in England. He's also a member of Mensa, an organization of people with high IQs. As part of being a contestant, he has his own Web site: www.tsaab.com.
Yes, I am a little bit envious of him, not because he is going to be on the Apprentice, but because he is a member of MENSA and I always envy brainy people. This guy reminds me a lot 0f one of my best friends, Alan Meadows, after talking to him for 3 minutes you can tell he is extremely intelligent. Alan was part of the inspiration for this template, he is in the Airforce and he worked very hard to get there. He even went through a bizarre surgery so that he could get in and now he is a pilot at Tinker Airforce base. I admire anyone that is that committed.
On a different note, I added some dog tags to the masthead of the template compliments of Biggy. He photoshopped them with a transparent background. I added a drop shadow and voila, we have a unique element added to the site design. Biggy also stumbled across a bit of puzzling CSS code that was causing all of his active pictures to become black and white. He thought it was a bug when it was actually a feature. I have employed this feature on my pictures. Now my pictures display black and white and when you hover over them, they change to color! Thanks Biggy for all the help! You ROCK!