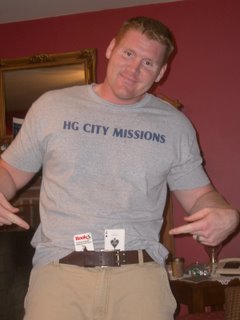 It's been a relaxing week filled with way too many home made goodies and lots of time just chilling and reading.
However, there has also been a little bit of butt-kicking – especially in the Rook and Spades department…
Joe and I come from a non-Rook background. We learned the game only yesterday. It is similar to Spades where two people play on the same team. After one night of learning the game, Joe and I teamed up to win the upset of year. Hand after hand we hammered the opposition by dominating with our cards. Steve, Amber's father, asked me at one point, "Why aren't you bidding!?" I merely tapped the scorepad and said, "Steve, I am winning this game, I no longer need any help from you." Slamma Jamma! Let the gloating begin!!
We followed our game of Rook with a game of Spades. This time Amber paired up with her mother, Thelma, and once again the Kentuckians got shut out.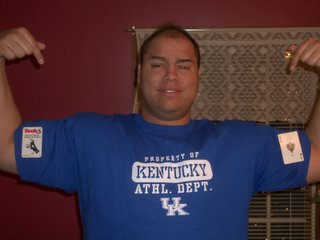 Of course Joe and I had to celebrate and show off our victory by making ourselves some champion "accessories". As you can see, I have the champion cards attached to my guns, and Joe is wearing the prized Rook/Spade belt.
Anyone up for some games?