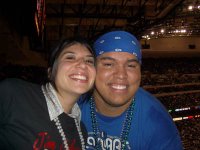 Wednesday night I performed at the AAC and it was Cat's first time to go to a Mavs game. Suh-weet! She goes to a Mavs game AND gets to see her hot boyfriend perform in camo pants that are a little bit too short and lots of blingage. Look at how cute she is with the beads I gave her so she could totally have some cool blingage like me.
Just a reminder in case you have forgotten – Tomorrow I turn 30 and so you still have 24 hours to shop!
Some suggested retail outlets:
The Apple Store – iPod Video
Best Buy – Digital Cameras
Pottery Barn – Leather club chairs
Crate and Barrel – teak dresser
Williams-Sonoma – Kitchenaid Mixer
Toys-R-Us – XBOX 360 or a Tickle Me Elmo!