Yeah You know me!
You will get to read more about my trip when the photo journal is complete, however, I will give you a bit of a quick overview here. First of all I need to tell you that it was a mission trip with Denton Bible Church S.W.E.A.T. Team. Our goal was to go and help repair a church in Brooklyn, New Temple Baptist, and to also do some witnessing on the subways, Union Square, and the Bronx.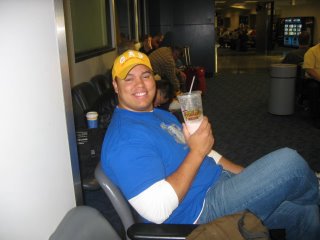 Friday we woke up early, 4:41 in the morning. I was tired because all week long I had been working late and getting up early and when I heard Amstaff Mom calling out my name I thought was dreaming. (I stayed the night on their hideaway bed – the third time in less than two months) Actually I was dreaming, I was in that perfect dream state where the dreams are pleasant and the sleep is so good that you wonder how it could be possible for heaven to be any better.
Anyway, I groggily drug myself out of bed knowing that I had about 10 minutes to get ready and when we finally got to the church I was wide awake and ready for my first visit to NYC! Unfortunately, we got to the airport too late and we missed out first flight and so we left 2-3 hours behind schedule, no worries, DFW has SMOOTHIES! I had a large strawberry, banana, coconut smoothie and like a big bowl of Lucky Charms, it was magically delicious.
Moving on…
We arrived at La Guardia airport which is much smaller and less busy than JFK. Since we arrived on Veterans Day I think a lot of people were off work for the Holiday because New York didn't seem that busy. I guess after 29 years of hearing about how busy New York is and how populated it is, and watching movie after movie stressing about how rude the people are and how overcrowded it is, I was expecting it to be MUCH busier. It is busy, but I have been to Hong Kong and China and New York doesn't really begin to compare to either place when it comes to numbers of people marching around like droves of ants.
No one was rude to me in New York like I expected. I saw a few street performers, but I saw more in Boston. It wasn't cold, and overall I thought New York was rather pleasant and civilized.
My biggest disappointment on the trip was when we went to see the Statue of Liberty. I expected her to be at least 5-10 times bigger than she was. I thought she was like skyscraper big. She's not. She's not Lilliputian by any means, but she is not even as big as the oversized Pillsbury Dough Boy in Ghostbusters!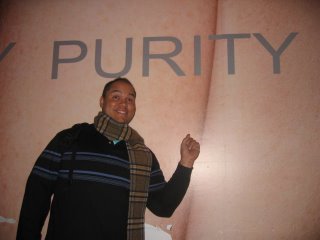 My favorite part of New York was Central Park. It was gorgeous, unbelievably picturesque, and I didn't find any dead bodies while we were walking through it. I don't konw how many episodes of CSI and Law and Order that I have watched where they have found bodies dumped in Central Park. I have also read at least 50 novels where the primo burial ground was in Central Park. It is 4 miles long and 1 mile wide and so there is a lot of territory that I didn't check out, but what I did check out was dead body free.
I will stop here for now. I hope to have the photo journal done today, if not today, then it will be up by tomorrow morning for sure.
Special thanks to Amstaff Mom for the pictures on this post and some that you will see in the photo journal as well.