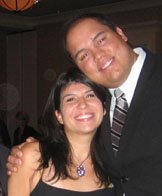 Last night Cat and I attended a Woman-to-Woman pregnancy center benefit dinner. Amstaff Mom, Cat's Sister, invited us and it was a very pleasant evening. Cat works pretty close to where I live and so instead of driving all the way back to her place to get ready, she just came to my house. She arrived at 5:00 and I shut her away in my bedroom while I got dressed in my "office" (my laundry room is an office).
I watched King of the Hill while she was getting ready. I also worked on some web design and after a while I began to wonder if she was alright in there. I heard no sounds of life coming from my room and then all of the sudden there was a loud crack and bang and the door floor open. A luminescent fog billowed out of the doorway backlit with sparkling lights and music. It was "I've got the power" by C&C music factory. Cat sashayed out of my room like a model on a runway – step, step, step, hip, twist, hip, pause, left turn, exit. Wow.
I don't know what you girls do to transform yourselves from "Care Giver"(Cat is a Care Giver) to "America's Next Top Model" but I have to say – Eddo likes it.
Dinner was great. The topic of the evening was not new information. Abortion – it is wrong. I am sorry people, there is no spin on it that makes it right and if you have one then I would love to hear about it. 4,000 abortions a day and countless lives damaged by the process.
The dinner was to raise money for the Pregnancy centers in Denton that help women decide what to do when they find themselves pregnant as well as a multitude of other helpful resources. I was proud to be a part of it.
Later I ran into some friends and so I stepped away from Cat for a few minutes so I could say a quick hello. The hello ran a little long and when I turned around, Cat and Katie and Amstaff Mom were all gone. I thought maybe they decided to walk out to the car and so I headed toward the direction of the front lobby. Then I remembered that I needed some cash and so I asked the receptionist where the ATM was and he said, "In the business center" and pointed at it. I walked into the business center and I run into Braun Smith – one of my best friends in the whole wide world! He lives in North Carolina and there is a race this weekend and so he was staying at the Hotel where the pregnancy dinner was being held! It was great getting to see him as it has been close to a 6 months since we last saw each other. When you think about that kind of coincidence you have to be a little amazed.
Overall it was an extremely wonderful evening. Tonight is another blogger game night at my house – if you live in Texas, you should come!