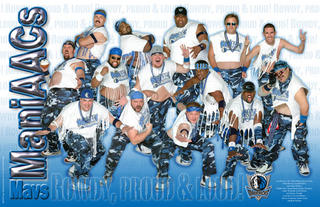 I keep getting asked – What is a Mav's ManiAAC and why is it spelled that way? The AAC is for the American Airlines Center – most definitely a Mark Cuban idea.
The Mavs ManiAAC's are dancers. We dance during half-time and during "Hot" timeouts during the game.
We will perform at most of the home games, and last year they flew the guys to various locales for charity performances and rehearsal dinners and corporate functions.
To read more about them click here. This page obviously hasn't been update with my profile, but hopefully it soon will be.
Again, this Sunday at 12:30 at the AAC the doors open to the MAVS fan jam. The game is from 1:00-2:30 and we will be signing autographs before the game. I doubt anyone will want my autograph, but it will still be fun!