This Post Rated NFMTR (Not for Mom to Read!)
Ben inspired this post by pointing out the obvious.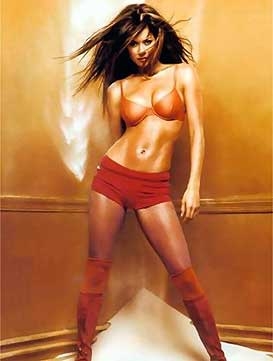 I recall when I first saw this picture of Brooke. Air-brushed to goddess-like perfection she wowed me with her exotic beauty. I know she hosted "Wild On E!" and that the E had nothing to do with Eddie, but I always pretended that it did. Oh, don't be so quick to judge, you would have too if you were a man with a name that begins with E! Throw me a bone here, I am a single christian dude who hasn't had a date in a year!
Now we get to watch Brooke on Rockstar INXS and every week her clothes become more and more revealing. It is as if they started with just one outfit and each week they just trimmed off a little bit of fabric and voila – its a "new" mini mini skirt!
I'd like for all of my women readers to believe that I am not like most guys, but in truth, I am still just a dude who likes women. I don't objectify them, I don't expect all women to look like Brooke, but I can appreciate God's design – shoot, he created Eve for Adam and I believe he created Brooke for me – the same way he created Rachel McAdams for me, unfortunately he just dropped them both in the wrong garden along with Eva Longoria and Carmen Electra.