Anne Fitten from the ever-popular Edgy Mama very graciously sent me a shirt! She sent me the shirt as a "Thank You" for working on her website – http://www.annefittenglenn.com – which I expect everyone to go and visit daily, link to your own websites, and send out newsletters and emails letting everyone know who AF is and that she is a writer and that they need to buy her book!
The shirt is really cool and on the front it says, "Asheville – Where Normal is Weird". It is from the Ashevillethemovie.com and they are actually making a movie about Asheville. I love it!
However, I woke up this morning and it was gone! And then I saw GORDITO WEARING IT!!!
I caught him black-shirted…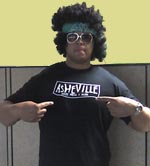 Last seen early this morning near my cubicle at work, Gordito is still loose. If you see him, please send me an email right away.
Thanks AF for the shirt! You are super sweet!