Amanda Adams got a new house. Her house is decorated extremely well and as I walked around I kept thinking, "I WANT ONE!" and what Eddie wants, he always gets (usually 3-5 years after the initial wanting begins)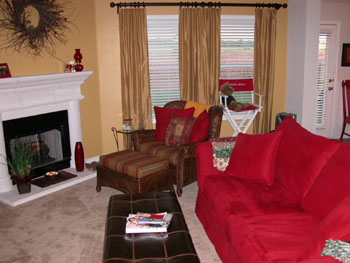 This is Amanda's living room. I really like the usage of warm colors combined with the bright red couch. Personally I like her red couch more than my purple couch, Amanda do you want to trade?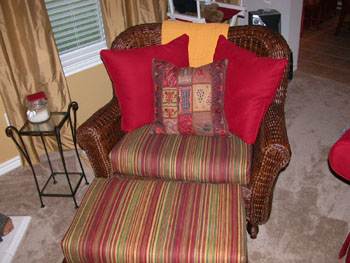 I also really like this wicker chair and the fact that if you get bored with the cushions, you can easily change them. I get bored easily.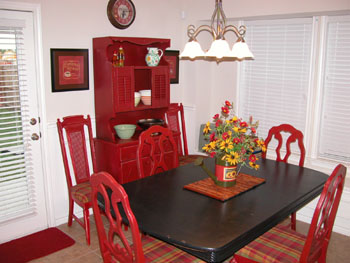 Here is the dining room. You might think that the red is a little bit much, but believe me, when you see it altogether it looks very warm and inviting – cozy even. I actually think Amanda has a Martha Stewart gene – some people are born with it, some aren't. I keep hoping Amanda will finally give in and marry me – I would complete her, and then she would have a purple and a red couch.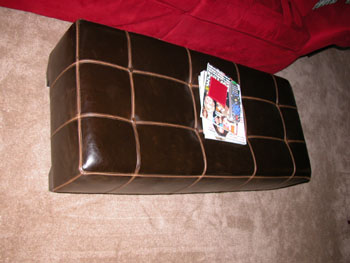 I love this coffee table. I have wanted one for as long as I can remember and now that I know where to get one (Rooms to Go) I will be getting one for myself.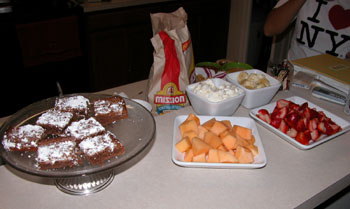 We were having a party of Jimmy and this is how Amanda prepared the snacks. Obviously this is how girls do things, if I had done this party I would have just set out a whole canteloupe and some store bought brownies and said, "Go to town people!" That is one thing I love about women, they take care of the details and isn't life in the details?
So I am looking for real estate in the Plano area with lots of character and about 1500 square feet with hard wood floors, vaulted ceilings, ceramic tile in the bathrooms and kitchen, and a large lot for less than 100,000. If you know where I can find this, please give me a call.