A Posted Note Behind-the-Scenes Exclusive!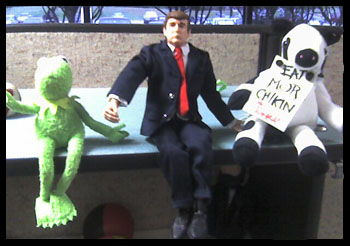 Kermit, Trump, and the EMC Cow
Word on the street is that on Season IV of The Apprentice Kermit and the "Eat More Chicken" Cow are the two finalist going head-to-head vying for a position as the CEO of the one of Trumps multi-million dollar companies. Who do you think would make the better CEO?
Kermit is much older and more settled than the EMC Cow, however, the EMC Cow has youth and a lot of publicity and billboards.
Will Kermit get a corporate sponsor? Will the Chick-Fil-A "Eat More Chicken" Cow catch flack from PETA?
More details to come as this story develops.
You're Fired!